Terms & Conditions of the stay at North Ryde Guest House
Welcome to North Ryde Guest House- we're looking forward to having you with us and hope you enjoy your stay in sunny North Ryde. Please don't hesitate to ask us if you require anything to make your stay even more comfortable.
We have a few terms and conditions it's important you read before checking in with us. We'd really appreciate if you could take the time to have a look at them before you start the serious business of relaxing in our cosy rooms.
Payment, Cancellation and No Show
Full payment is to be made on day of arrival. This payment constitutes the clients acceptance of the terms and conditions.
Deposit of the cost for first night's stay is to be made after reservation.
Cancellations within 1 week prior to arrival incur a fee of the first night's stay.
Cancellations within 24hrs prior to arrival incur a fee of the full period's stay.
Failure to arrive at the North Ryde Guest House will be treated as 'No-Show' and no refund will be given.
Credit card fee is 4% of first night will be charged if the booking be cancelled by guest.
Check-In and Check-Out
Your check-in time is 2pm and check out time is 10am.
We need your booking reference number on arrival.
We'll also need your credit card details on arrival. This will authorise management to debit your credit card to recover any costs incurred in breaking any of the General Conditions mentioned below. We will never debit your card without prior notification.
If you've arrived before check-in time, feel free to leave your personal properties with us North Ryde Guest House until you can access your room.
North Ryde Guesthouse takes no responsibility for your personal properties.
Early check-in will be charged minimum $20. Early check-in will be charged minimum $20.
Extra beds
Rollaway/extra beds are available for AUD 15.00 per night.
General Conditions
Smoking is NOT allowed inside the house. If you are smoking outside, please ensure the glass doors are closed to prevent smoke entering our rooms.
For safety reasons, you will close all lights and any running applications before leaving the room
You will not damage or remove property.
You will not increase the number of guests in your party without the prior consent of the management.
You will not hold a party or function without prior consent of management.
You will not use any of our property for any external and unreasonable purposes.
You will not cause harm, discomfort or inconvenience for other guests.
You will not leave the house in an unreasonable condition.
No pets are allowed.
By making a booking to the North Ryde Guest House, you accept the terms and conditions. You also accept liability for any breach of the terms and conditions, and management may enforce external fees should you be accountable for any breach of terms and conditions.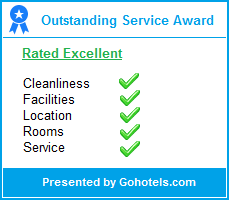 https://www.gohotels.com/en-hotel/north-ryde-guest-house-sydney-au.htm